This (Was) Crowley
Posted by Arni Bergsson on

Fergus Roderick MacLeod (c. 1661 - 1723) was a human, who after death (near the age of 63) became Crowley; a powerful demon who was the King of the Crossroads and the King of Hell, following Lucifer's second re-imprisonment in his Cage. Although he initially served with Lilith as her right-hand man, he went rogue in Season 5 after her death and Lucifer's release, aiding the Winchester brothers in resealing the latter back into his cage. With the power vacuum in Hell unoccupied and with Ramiel's encouragement, he appointed himself the new King of Hell.
Crowley allied with Sam and Dean in Season 5 against Lucifer to obtain the Four Horsemen's rings with them to protect himself, then with Castiel to obtain the power of Purgatory and briefly with Raphael after his betrayal in Season 6, and then with the Winchesters again in Season 7 against the ambitious Leviathans. However, in Season 8, he cuts his allegiance to the Winchesters and Castiel, seeking vengeance as well as attempting to capture the Prophet Kevin Tran and The Word of God to further his own goals, only to be captured by the Winchesters as part of their plan to close the gates of Hell. In Season 9, Crowley was temporarily Sam and Dean's captive while being hunted by Abaddon as part of her plan to take over Hell. However, upon being freed as part of a deal with Dean, he has rightfully resumed his post. After Dean was killed by Metatron and revived by the First Blade, Crowley guided Dean through the process of becoming a demons. The two spent a significant amount of time together until Dean was cured.
Crowley was overthrown and held as a slave when Lucifer escaped from his cage. Crowley was forced to do slave work until he managed to flee.
Crowley's role is often shifting from main antagonist to anti-hero. He was an anti-hero in Season 5, one of the three main antagonists in Season 6, an anti-hero in Season 7, the main antagonist of Season 8, and an anti-hero for the rest of his appearances. However, in all of his duration as an anti-hero, he is still openly an antagonist, usually pulling a life-threatening stunt on the Winchesters after assisting them. He is currently one of the longest lasting antagonists in the series, second only to Lucifer.
In All Along the Watchtower, having grown tired of his job as King of Hell, Crowley sacrificed himself to seal Lucifer in an alternate reality.
Human Life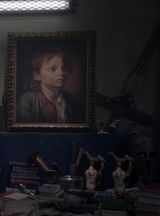 Fergus Roderick MacLeod was born in 1661 in the Kingdom of Scotland, the son of a powerful witch and Grand Coven member Rowena. Fergus never knew his father, as according to Rowena, he had been conceived during a winter solstice orgy involving multiple potential fathers she had not bothered to keep track of. What is known is that he was not a practitioner of witchcraft, which got Rowena cast out. Although Fergus learned magic and spells from his mother, He was also abused by her, with him recounting that she had once tried to sell him for three pigs, among other things. Rowena once said that Fergus was a smart child, and learned to walk before his first birthday. He also disliked wearing pants.
At the age of 8, Fergus was abandoned by Rowena when she got in trouble with the Coven and left on her own. He held a grudge against her for centuries, being that she had always hated him.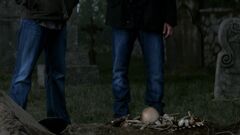 Later in life, Fergus became an unsuccessful tailor and heavy drinker who sold his soul for three extra inches to be added to his penis. He also had a son named Gavin, whom he similarly abused. He beat and starved Gavin repeatedly during his childhood, worked him harder than their own horse, and refused to let him attend school out of loathing towards him and Gavin came to loathe him, too, believing Fergus thought of him as less than nothing. Fergus eventually died at around 63 years old, at which point Gavin buried him and set sail for America, only to perish in a shipwreck.
Per his deal, Fergus's soul went to Hell, where he was tortured until becoming a demon. After becoming so, Fergus was renamed Crowley and became a successful crossroads demon, at some point rising to the King of the Crossroads. He was also Lilith's second-in-command and possibly her lover.



And now we want to give you guys a Angel killing bullet necklace in memory of Crowley, bullets were made of metal from a melted down angel blade which gives it the ability to kill or injure an angel. All you have to do is Click the image below or just click here: >> Claim Yours NOW! 

---
Share this post
---
---
---